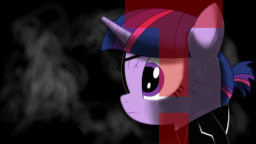 Source
This story is a sequel to The Mare Who Sold The World
---
Princess Twilight Sparkle, the soon-to-be ruler of Equestria makes her way to the Capital to attened her coronation. Full of questions and doubts, sometimes the best way to clear them away is to have a nice trip down memory lane.
Even if it isn't necessarily your lane.
27/04/2022, 28/04/2022 Featured!? Bruh, this just made my morning, so happy!
Chapters (1)