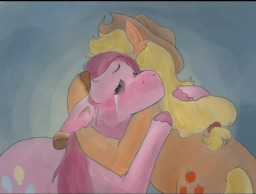 Pinkie's parents are missing, presumed dead.
Applejack is there to pick up the pieces.
---
Please heed the content warnings! This is a story very explicitly about grief, loss, and depression. Suicide is also an important recurring theme, and cannot be avoided!
Amazing coverart by my sibling, cereal (fimfic | twitter)
For Bike's Applepie contest (folder | info)!! I love this ship and it's so so so rare, so I'm super happy to be contributing!
Chapters (6)