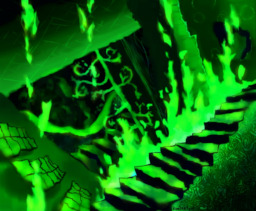 Sunset Shimmer, after being relentlessly bullied by her peers at school because of the Anon-A-Miss incident, comes to her apartment, drunk out of her mind. In her stupor she accidentally drops a lit match and set's her entire room on fire, dying in the process.
However, instead of passing on to the other side, her soul became trapped in the inferial plain known as the ghost zone.
Here, Sunset will meet and befriend some of the ghosts that lurk inside and she will to keep the ecto-energy inside the ghost zone from corrupting her mind.
Chapters (1)