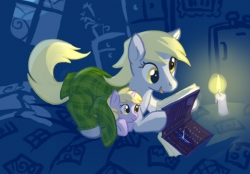 Derpy is putting Dinky to sleep and proceeds to read her a story. I have always loved the stories written and illustrated by Eric Carle, so I decided to do a crossover. This story is based off of Eric Carle's Walter the Baker. After that it's episodic events when somepony reads a story to either Dinky and/or Sparkler.
Edit: So, a lot of my followers loved this story so much that they've talked me into ponifying more children's books. So, if you want me to ponify a book you liked as a child, give me the title and the author in the comments or on my blog and I'll see what I can do.
http://www.fimfiction.net/blog/108024/derpys-night-time-stories <-- the request blog.
Chapters (4)