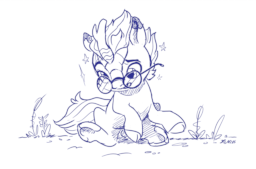 This story is a sequel to Harry Potter and the Crystal Empire — Intermission
---
It was reminiscent of his first years at Hogwarts on Earth. Harry took the train to the Crystal Empire and found himself in his old digs at Hogwarts in short order. But, things are not as they were. Minerva McGonagall has taken control of the school and is shepherding her students into a new life not just as ponies, but after the war against King Sombra's forces, protectors.
The only thing that remains same is there's a great evil threatening the peace of Hogwarts, the Crystal Empire, and the ponies, wizards, and witches that live within.
---
Art commissioned from the amazing Dilarus.
See This Blog for licensing.
Chapters (9)