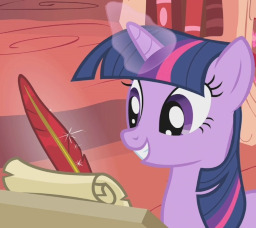 This story is a sequel to Starlight Does Not Take Criticism Well
---
Note: Contrary to what the cover art depicts, this story takes place after the future events depicted in The Last Problem.
To cope with the extreme stress of running Equestria, and because Starlight suggested it to her, Twilight makes a hobby out of writing fiction. And the reason she's writing fiction instead of something autobiographical is because she doesn't want a repeat of what happened when she published the Friendship Journals.
Unsurprisingly, she gets carried away very quickly.
Chapters (1)