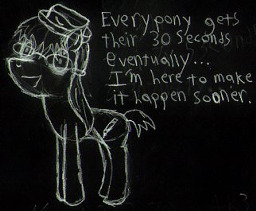 Author Tempus is what you might call a reaper. He finds ponies who are bad, hunts them down, tracks their lives and kills them. He then uses their hide to write their biography, which he sends to a mysterious "editor" which all the other reapers send theirs to.
He only does it to bad ponies though. That's just his job.
But sometimes all the power and responsibility can go to your head...
Meanwhile, other reapers do their jobs, and Twilight and Fluttershy investigate recent killings. (Seeing as Pinkamena killed Rainbow Dash and herself, Rarity is a sadistic whore, and Applejack refuses to leave the barn, they are the only two able to investigate.)
Chapters (3)