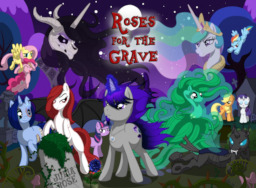 Dark magic is a powerful and banned art believed to be long forgotten. Unbeknownst to the common Equestrian citizen, that art is very much alive and practiced in secret by less harmonious individuals. These ponies are part of a hidden society that has long opposed Celestia and her reign for well over a millennium, fighting a secret war away from the eyes of the Equestria's ignorant individuals.
When a necromancer, a vampire, and a ghost must abandon their home upon discovery, they find refuge in the town of Ponyville where they can continue their morally questionable practices. But with the inquisitive Elements of Harmony nearby, they soon find it harder and harder to hide their darkest secrets.
Slowly but surely, Twilight and her friends are drawn into their world, showing Equestria's true colors in the process; caught within a battle between light and dark. Will Twilight and her friends find fiends of pure malice or will they discover ponies with scarred and broken hearts?
============
Additional Characters and Categories will be added when needed.
First story, feed back is appreciated and is my pride and joy!
FIRST FEATURED 3/16/2015
Chapters (15)