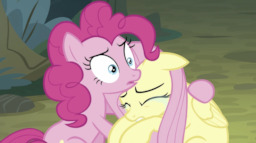 Source
After Pinkie Pie sees Fluttershy being bullied by a mean griffon named Gilda, she goes after her best friend and does her very best to comfort her. Fluttershy also confesses to Pinkie Pie that she actually remembers Gilda back from flight school, and she also ends up telling Pinkie just how badly Gilda treated her back then.
This story takes place during the episode "Griffon the Brush-Off".
Also, thank you very much for getting this story featured!
Chapters (1)