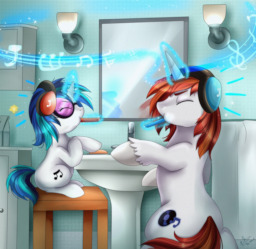 Source
Long Play has a concert to catch, but his blubbering baby sister just got home from school. Something got under her fur today. Something serious.
Side note, how did it take me so long to learn Vinyl canonically has an older brother? I really need to read more IDW comics.
---
This is an entry in the Snippet Series, an anthology of old oneshots that I (and my good buddy Str8aura) wrote based around interesting pics I found. New ones will be posted every other Thursday for the foreseeable future.
Chapters (1)