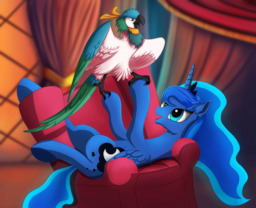 At her beloved sister's pestering, Luna takes a long zeppelin ride to the desert city of Saddle Arabia for a diplomatic tour. She hits it off with the delegates there, but there is one diplomat she is having the most difficult time negotiating a reasonable deal.
Can Luna use her diplomatic charm and patience to overcome this bothersome diplomat?
Inspired by the fanart Never joke with Princess Luna
By artist Papygai4ik
Wanted to go for light teen humour, so I hope you all like this take.
Chapters (1)