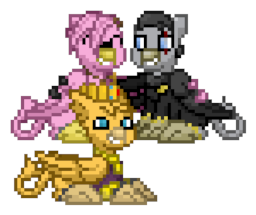 This is a primarily a short story about stress, anxiety and the importance of parental affection in the development of young adults against a backdrop of political chaos and instability across the Griffonian Empire after a decade of wars; some large and some small.
If that name is unfamiliar to you, then I'm happy to explain that this story is based on a headcanon from the Hearts of Iron IV mod Equestria at War in which Duchess Gabriella and Duke Gerlach secure Griffenheim and rescue Grover VI from the talons of the Archon. From there they reconquer the empire and look after Grover VI as his wards, which gives us the backdrop to this short story.
I have also decided to flesh out this story, you can find the longfic version here which is currently receiving weekly updates, though that may be subject to change as my exams are coming up.
Chapters (1)