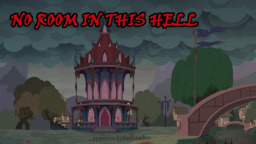 ---
Littered around Ponyville are stains of blood, an' more an' more bodies. Ponies I knew. Ponies I called friends. Ponies who will, dependin' on how much of 'em is left, probably get up and do the same to anyone else left alive. I wish I could stop it, but I can't bring myself to desecrate their bodies like that.
Everypony who was able to evacuate is gone, I think, an' all that's left is me an' Dash an' the other… the other things that are lurkin' about.
---
Written for a Quills and Sofa's Speedwriting Panic. The prompt was Fangs!
Thanks to Emotion Nexus for prereading.
Cover art is a screenshot edit made by yours truly.
Chapters (1)