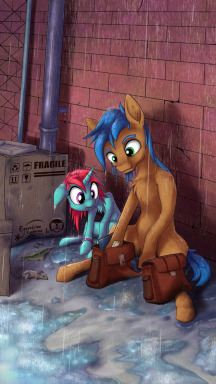 Source
This story is a sequel to The Painless Murders
---
Being a detective on the Canterlot Police Force was exactly where I was meant to be. When that was taken away from me, I started down a path that was not likely to end well. Then I found a unicorn filly lost on a rainy night. I was less than enthusiastic, but I couldn't just leave her. The search for who she belonged to sent us down a path more dangerous than I would have thought possible. The destination would change the course of both of our lives.
This is another in the spin-off series from The Quicksilver Chronicles featuring the private investigator Dark Steel.
Cover art by Calena.
Thanks to my pre-readers OConnerGT-R, Airy Words, With a special thanks to my editor EverfreePony.
Chapters (3)