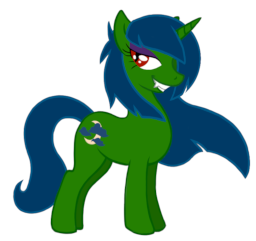 This story is officially and now completely canceled. I was thinking about doing a rewrite but after going through the entire piece, the only thing even worth salvaging is our lovely CA pony. Which is why that she will be the only thing I'll keep. If you want to read the story still, go for it. But it won't be edited or changed or such from what is currently on there (I haven't checked in ... a long while). I know it's bad of me, but it is what it is. Hopefully the horrible writing and countless issues don't detract from my next story (when ever that will be).
--- (Original Below) ---
Steel has been in the Lunar Guard for months, working hard and doing all the right things. He gets the chance of the lifetime to prove himself for the Commanders. However, all dreams come with a cost and sometimes even worse, nightmares.
Cover Art is a work in Progress. Current picture is of a main character.
I would love to hear it from everypony! So please leave comments on what ya like and don't like, the more criticism the better!
I want to thank my good friend Coffee (Canvas Shade) for providing art for my story and reviewing/editing my story. I will be changing over editors for my other chapters due to his popularity based off his ongoing adventure. (Seriously, its a great story, so go read it!) (Link > http://www.fimfiction.net/story/45880/Committed%21- )
Chapters (1)