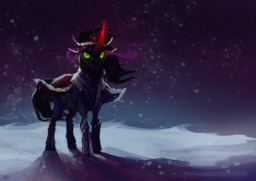 Source
King Sombra knows he is losing.
The Crystal Empire is about to fall to Equestria, and he can do nothing about it.
Or can he? Preparing his last resort spell, he steels himself to do what may be the hardest thing in his life. He will endure the passages of time. He will persevere.
For he is King Sombra.
---
An entry in Imposing Sovereigns III, using the prompt King Sombra/Perseverance, maybe even Determination.

Chapters (1)