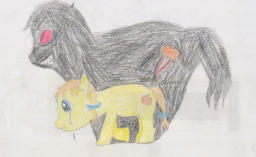 "Poor little pumpkin still struggling through life, like dealing with a school bully who's filling her with strife.
Her family, friends, and teacher are all there, but the bully's mom doesn't seem to care.
But then a cute young colt moves to town, he takes intrest in Pumpkin and plans to to wipe off her frown.
When the bully alerts her mother of Pumpkin's recent glee, a plan begins to brew; one of deceit and grief.
Should I worry? Ha! Only an idiot would think I might, but this is what I was waiting for; a chance for me to strike!
For when one plays with this filly's heart she'll plan to make you pay, and then her anger sets me free so I can come out... to play..."
(The 3rd sequel story of Pumpkin's struggles)
Rated TEEN for violence and Murderous intentions
(Other characters Include the Cakes and Twilight Sparkle)
Quick drawing done by me.
The story concludes here: http://www.fimfiction.net/story/91585/pumpkins-darkest-hour
Chapters (11)