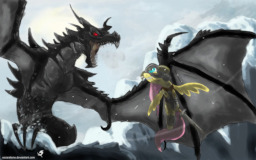 In times of despair, there must be a hero that saves the day. But what will happen if that hero is someone whom you last expect as a hero?
A MLP/Skyrim Crossover! I do not know much about Skyrim myself but I'll try to improvise.
I shall never own MLP or any of the Elder Scrolls series!
Chapters (5)