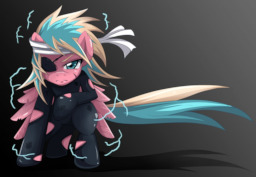 Source
This story is a sequel to Dash of Humanity 2: A New Dawn
---
My time in Equestria has been eventful: I woke up trapped in Dash's head and sharing her body. I saved the world from Discord, adapted to life as a pony, and survived a love triangle between Dash, Soarin, and myself. Just when I thought I could finally relax and enjoy my new relationship, Equestria had one more surprise to throw at me.
I'm trapped in a time loop, cast by some unknown jerk, reliving the same day over and over. Twilight's out of town so I don't get to pull my favorite move: the ask a Princess to fix it for you card. As the only pony who can remember the time loop, it's up to me to fix it. I'll have to get help from the few unicorns left in town: Rarity, Lyra, and my new neighbor Minuette. Could this day get any worse?
---
Editor: TheEighthDayofNight
Updates: Wednesday and Saturday
A Re-Write of Dash of Humanity 3, focused on the Comedy HiE aspects that made the first two stories a success.
Chapters (22)