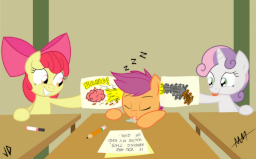 Source
This story is a sequel to Ponified Without Consent
---
In a world without bacon, five humans find themselves trapped... grazing on mother bucking dandelions. To get home, they'll need to learn that friendship is magic. Too bad none of these jerks are friends.
To make matters worse, the show attempts to censor their attempts to act out of character. They're stuck as fillies no pony will listen to, and the only adults of the bunch are the alcoholic Berry Punch, and the eccentric Blue Blood.
---
A sequel to finish the great story we had planned to tell in our collaboration that was cancelled in 2013. The original is a quick read and sets up the characters, and the authors and editors deserve some love.
Edited by Neko Majin C
Chapters (3)