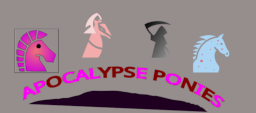 The Ponyville rumor mill attempts (badly) to make sense of terrible apocalyptic happenings. Then, we meet the culprits, and finally, we figure out what happened and (hopefully) set things aright.
---
Trixie is Terrible Rating: Trixie (Indirectly) Causes the Apocalypse: 8

out of 10.
---
Content Notice: (1) Trixie makes some double-entendres in a paragraph in Chapter two perhaps due to her inability to properly use a thesaurus, (2) Some ponies "die", but that won't stick. (3) minor mention of what is essentially zombification (4) one young pony gets pulled in two directions, (5) sickness, (6) blinding, (7) inebriation, (8) violence at the beginning of chapter 4.
---
Era: Takes place during Season 7. (See an index of my stories, sorted by My Little Pony Season).
---
Image: Compiled by me, containing four sub-images with rights only to those sub images: here, here, here, and here.
Chapters (4)