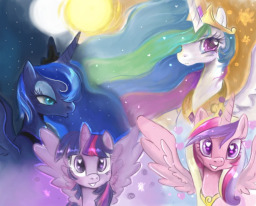 Source
Princess of Harmony.
Princess of the Night.
Princess of Love.
Princess of Magic.
Twilight always assumed these roles were natural and unchanging - titles that merely reflected the inherent power of the bearers.
Now, she can't help wondering if that assumption was incorrect.
---
Featured from 8/5-8/8/2021, peaking at the #1 spot. Thanks, everypony!
Chapters (1)