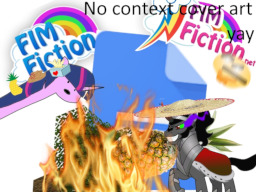 Tonight on Bottom Gear, Twilight eats a pineapple, Applejack goes berserk, and Rainbow Dash falls in love with a box of tissues. I think. There's some other stuff that happens too, but everyone's too brain-dead to summarize it all.
This is the worst possible way to celebrate a Fimfiction milestone, mark my words.
Sex tag for innuendos all throughout this garbage fire. ¯\_(ツ)_/¯
Collab credits in the author's note. :V
Disclaimer: there was, for a while, roughly 20 or so peeps working on this at the same time. This absolute carnage was somehow cleaned up into fitting precisely 5,000 words according to Fimfiction's word counter, and I still have no idea how we managed to do that. Do not expect quality, or even relevant memes. Oof.
Dedicated to this lovely dumpster-fire of a site that we call home.

---
We have successfully polluted the featured box with our garbage! Huzzah!
And now, the 500,000th story has been paired with the 500,000th account! Huzzah! (again!)
Reviewed by PresentPerfect!
Read by The Mystery Fluttershy Fan! ded link
Read by The Mystery Fluttershy Fan!
Chapters (2)