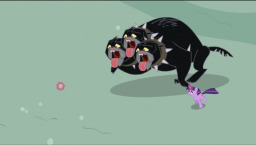 Everyone has a dark side. If you take something too lightly or judge it too quickly. It can give the most deepest wounds and vengeance to them. Vengeance that can last forever..... to become too late to be cured.
When Twilight was moving to the Gates of Tartarus with Cerberus, she finds something that is gonna change her and everyone's life forever. And she learns that the friendship lesson she learnt before, had a deeper meaning to it as well.
"Never judge a book by its cover."
A/N: I thought this might/could have happened. It happens where Twilight is leading "Cerberus" to The Gates of Tartarus.
Only added character Twilight Sparkle and some other obvious characters to prevent spoilers. But things mostly happen around Twilight and Luna. That means it focuses on them as well. But perspectives and thoughts will only be Twilight's.
And keep in mind that only the first chapter includes Twilight without Luna. However, other chapters will always include Twilight and Luna together.
Positive feedback and critique is appreciated as well!
I am continuing it but I will most likely update 1 time per week. Or 2-3 if I am lucky enough.
Also thanks to:
Firefan645 for inspiring me and giving me ideas for further chapters.
FlutterDash7 for giving me suggestions and a small proof-read.
DinoManDraves for giving me a full proof-read and suggesting me the correct cover for the story.
funkyferret for some minor edits and making this story visible to others for editing. (And for the group as well.)
They are all awesome friends and I wish them further luck in writing! And, I have typed it in no-order. So, no "best" or anything.
Rated "Teen" for Romance after Chapter 1. (FlutterDash and TwiLuna shipping in this story. You have been warned.)
Chapters (2)