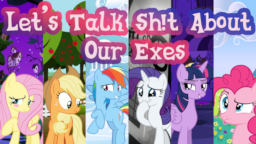 At one particularly boring get together for the elements of harmony the only answer lies in the form of a prolonged gossip about all of their past romantic exploits.
An ongoing series in which all and any possible ships are likely to have already happened.
Note: Profanity tag is for the single use of one word throughout the entire story, as well as its censored use in the title and cover art. No other expletive language is featured in or planned to be featured in any and all future chapters.
Chapters (1)