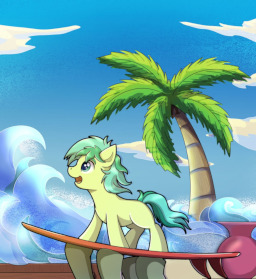 This story is a sequel to Transitioning Love
---
Ever since he was little, Sandbar has loved sailing. It has always been a part of his family heritage, and now, during his final year of Friendship School, he has the opportunity to partake on an epic sea voyage off the coast of Baltimare. Better yet, he has the love of his life, Yona Yak, and one of his best friends, Silverstream, to join him!
The only problem? Yona has thalassophobia. She cannot swim, and her fear of the ocean is as crippling as it is deep seeded. Can Yona face her fears and help Sandbar find the legendary sea dragons? And how will it effect her relationship with Sandbar, long term?
---
A last minute entry to the Pride and Positivity event! Extended to early July, each fic submitted will count as a donation to LGBTQ+ charities, or similar humanitarian efforts.
This story is a sequel to Transitioning Love, but prior reading of that story is not required. Mild content warnings for references to Transphobia and depictions of panic attacks.
Story title named after a song by Alestorm, and cover art used with permission from Little Tigress.
Chapters (3)