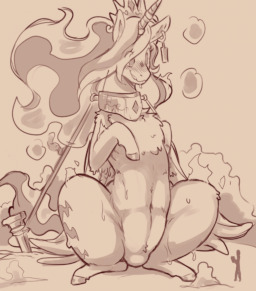 Much like the Sun's passage overhead, ages come and go. The land of Equestria is going through a change, much like it has countless times throughout the aeons, yet it is bitter sweet. For one ancient ruler, almost older than time itself, the dusk quickly approaches...
Artwork by CBTwilight
Author's Note
This is my personal sendoff to G4. I honestly can't say if G5 will live up to its predecessor, but I felt like trying to bridge the gap between what we know and what is soon to be...
If you want to help support me, I have a Tip-Jar/Patreon HERE
Chapters (1)