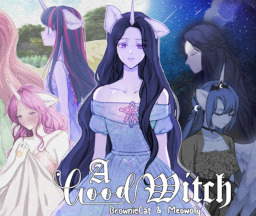 Ever since the beginning of recorded history, witches have been labelled as the evil of Equus, and they live up to the title as well. One of the biggest threats to Equestria, and through the recent Changeling fey attack, they have struck down the Sun Princess herself.
An ailment none of the doctors are able to heal. A curse no researcher is able to break.
Twilight is afraid. Afraid of losing the only mother she has ever known, she fears that she will be kept from being with her until it's too late. Twilight is a good witch, of that she is sure. She has been molded and taken care of by the kindest, most wonderful mare on Equus, ever since her birth mother abandoned her, and she has not looked back.
But why was it fair now that she has the ability, but lacks the knowledge to give to one who has given her everything? Should she delve into that part of her soul screaming to be let free, or shall she wait and put the fate of her beloved mentor in luck's palms? Still ridden with doubts over the Wedding, she can do naught but research, beg and hope as she waits outside her mother's chambers day by day, waiting for the Solar Diarch to finally allow her access.

Luna is desperate. Why was it fair that they were brought together for three mere years after a millennia, only for fate to bring Celestia down so low, right in front of her eyes? Despite all her efforts, she can do naught but look on day by day as her sister's condition seemingly deteriorates, helpless as the witches take advantage of the situation to push back at the chains binding them, seeking to reclaim their rightful place on the hierarchy. She has nowhere to go, nopony she could turn to... And the worst thing? She knows that one of the claims in the previous sentence is a lie.
Aurelia is uncertain. Uncertainty had become very common lately, and she wasn't sure she like it. Luna was once her friend - her best friend - and yet she had broken her unwavering trust, stole from her and betrayed her. There was also the fact that she certainly wished for nothing to do with somepony who only wore masks and crafted facades as smoothly as a witch. If it were up to her, Celestia could burn in Tartarus for all she cared.
On the other hand, her father's last wish not something she would ever break, even for petty revenge, and her.. daughter's cries each night still shredded the soul from where she'd come from. Aurelia has the ability and she has the knowledge. But would it be wise to risk revealing herself to the public eye, to the eyes of the Sisters, the other witches, her daughter, just for Celestia? She wasn't sure.
Perhaps it was time to embrace every part of herself. Perhaps it was time to own up to the mistake which had cost her her very first friend, her closest friend. Perhaps it was time for her to face the one she'd abandoned and the world she'd shut herself off to.
There is hope for Celestia and there is hope for mending fences, but hope is a fickle thing, and a wrong move could break spirits, crush budding relationships, and topple a kingdom into ruins.
---
Thank you to:
For your generous support and effort in the making of this story. (And also for teaching me the reins of how to write using FimFiction)
and
My Brother
For encouraging me to finally make an actual account after a whole year of being on this site.
---
Cover made from various parts of talented artworks pieced together and edited by Meowofy. Thank you!
Chapters (4)