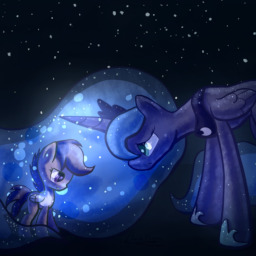 I got featured again!!!! June 19th 2021 - June 22nd 2021

Luna has spent untold lifetimes in the dream world with other ponies, and on a cold winter night, she settles in for another- with a colt who has just one hour to live. Luna's spent incredible amounts of time in the dream world, and while her body doesn't reflect it, she is much, much older than her "older" sister.
Hickory is a teenaged colt, an orphan, living in Canterlot. He's spent more of his life being sick than being well, and he's very familiar with "his" hospital room by now. One night, for some reason, the doctors wheeled his machines out of the room, letting him go to sleep in silence for once. The room, usually filled with the whirring of the machines, was actually quiet enough for him to dream.
And on that night, Luna happened to be drifting through the dream world...
Chinese translation by gezhehuohu can be found here: https://fimtale.com/en/t/25240

Chapters (1)