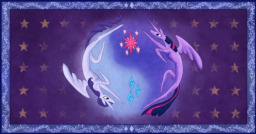 Source
Once upon a time, in the magical land of Equestria, there was a royal couple who ruled together and created harmony for all the land...
A thousand years after banishing her beloved to the moon, Princess Twilight Sparkle will have to face the sins of her past as her student fights for their future.
---
Expanded version of the third-place finalist in the Quills and Sofas Speedwriting Lesbian Pride contest.
An entry into the Pride and Positivity event. Please consider donating to help those in need:
An entry into the Reunions Roleswap Contest.
An entry into the The My Little Pony Renaissance Contest.
Thanks to wishcometrue for editing and to Shaslan for the cover art and for the name of Rarity's evil form.
Chapters (1)