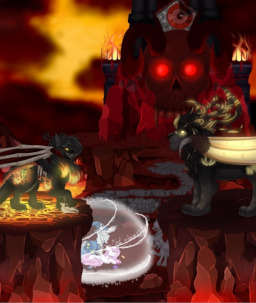 "The Devourer glides through the realm on wings of ruin. In her wake, armies of fire and shadows emerge. She will drown those that stand against her in blood and kneel the world with smoke and ash. When all is barren, and even the browning plants have bowed—she will swallow the world."
---
Two thousand years ago, before even the legends of old creased the mountains—existed a story. Within this story, were proud kingdoms. A changeling hive rested in the south, a fortress with galloping centaurs in the northeast, and a castle with a questioning Titan in the north.
This was the Titan's story.
—But there were more kingdoms in this story. A humble palace was tucked away in the south-east, griffons wheeled around fang-white peaks in the mountains—and something malevolent would one day lurk in the south-west.
Many great walls stood in old Equestria, but that did not guarantee their longevity. They fell. Like fleeting sand on the shore, they were lost to seas of flames. Coeus the Titan warned them of Asmodeus. The creature that yearned for blood and anguish.
He warned them of its lust for war. Their hatred and clashing steel was the melody for its summon. It was what had birthed it. They didn't listen. They commanded the Titan do their bidding, to decimate their foes, and Asmodeus heard it.
Now, they had loosed it into their realm. The fire and death the Titan was forced to cause came back ten-fold. The Devourer, Summoner of Sins, and Eater of Worlds…
…had declared hell empty. The demons now walked among mortals, and forever may she reign.
Chapters (2)