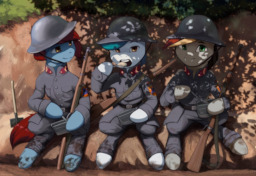 Source
Based on the Equestria at War universe.
In the year 1011 ALB, Queen Chrysalis declared war on Equestria. She and her High Command believed that the Equestrians would be easily crushed underneath the treads of their tanks and pushed back by their powerful changeling rifles. However, they were quickly proven wrong as their forces met the heavily fortified positions of the Equestrian military. After months of a painful stalemate, the High Command had a brilliant idea. They began deploying infiltrators into the Equestrian fortifications to weaken and surprise the defenders for the oncoming attackers.
One particular changeling was deployed to an Equestrian fortification, weeks in advance. On the promised day, he sits in a trench, waiting for the arrival of his brothers and sisters. But, will they come? And what happens to the mare that he became friends with if they do come?
Chapters (1)