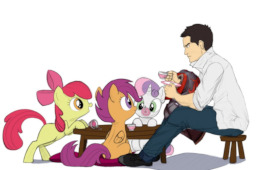 Equestria, favored by the attention of the Sisters and inhabited by all sorts of magical talents, has always been famous for the benevolence of its inhabitants. Even to strangers from distant lands, the ponies were ready to treat, getting to know them better, with even a little cute naivety. But when an alien guest invades their lives, who does not obey logic and magic rules, and even has a spectrum of very sinister abilities... Let's face it, even Lyra was not mentally ready for such sort of humans.
---
Original fanfic in Russian (Оригинал работы на русском языке для заинтересованных): https://ficbook.net/readfic/9231297
By the 06/25/2021 edited chaptes: 1 of 10
Mates, this is a translation of foreign fanfic by Google Translator, my own revisions and (mostly) Max and Rikki, fanfic's editors. Handling of stupid robot's work in progress.
Also:
This work actively echoes the lore about the internal structure of Alex Mercer from my other Russian-language crossover with Starcraft, "Meeting of the Minds". Yep, it was also named after the work of my very favorite science fiction writer. However, I dare to hope that this will not be an obstacle for the local audience, because the chimerical firmware and other garbage [serving at the same time as an explanation of the abilities of the Evolved and their limiter] are not significant for the plot.
The continuation is expected to be released irregularly - original story already has 10 chapters, more will need translation.
Chapters (10)