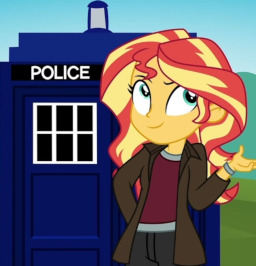 Anon-A-Miss, the famous cyberbully had effectively taken over Canterlot High School, spreading the secrets of the students in order to hurt Sunset and to get her to leave.
In her grief, Sunset decides to try to end her life by freezing to death.
Unbeknownst to her, a hero had come to her aid.
Follow Sunset Shimmer and The Doctor as they travel throughout all of time and space in the TARDIS.
(Note, this version of the doctor is my OC version of David Tennant's 10th Doctor with my OC version of his TARDIS.)
Chapters (2)