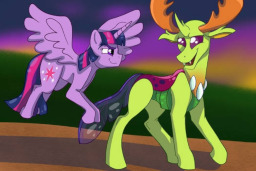 Source
Princess Twilight Sparkle of Friendship was assigned to prepare some equipments in Canterlot castle for the gala day that will be on by next week with the help of her friends. However, the obligation has made some unexpected twists when Twilight mysteriously gets sent to the Everfree forest after an accident. Now, the young Princess is lost. But all hopes we're not lost until a being came in and took her to his Kingdom for a stay. However, the long stay will also establish a new bond between the two.
New story! I hope you all will enjoy this one too! This story was inspired by The Bug in the cave story.
Also, I do not own My Little Pony, it belongs to Hasbro. And the coverart I am using also belongs to it's rightful owner.
Chapters (12)