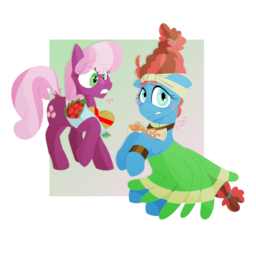 Cheerilee loves Meadowbrook. Meadowbrook loves Cheerilee. Neither of them knows how to say it, but the bigger problem is that the field of romantics has changed significantly over the course of a thousand years.
---
Entry for the May Pairings contest. Written with the help of the great and powerful Mushroom, the charming and unyielding themoontonite, the ever-present and encompassing UndomeTinwe, and the all-knowing and faithful Wishcometrue.
Cover art done by the talented and wonderful Skulljooce/Not Quite Equine. Give them some love!
Chapters (4)