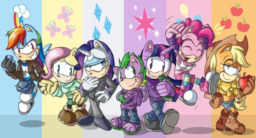 This is a rewrite of the A Mega Blast from the Past series.
---
Twilight Sparkle, now the new high Princess of Equestria, has been having a meeting of the Council of Friendship. But since then, things haven't been quite alright. Since Twilight has moved into Canterlot Castle, Nyx (from Past Sins) and Joshua (from New Life in Equestria) have been having a tough time since they transferred from the Ponyville Schoolhouse to a school in Canterlot. But things have been getting a bit complicated when an unknown magical force surrounded all of Equestria and beyond it's border, sending all of the creatures there so an entirely different place, transforming all of them (Except for Joshua) into humanoid versions of their original bodies.
Things might get a bit complicated when one of that world's governments attempt to take over Equestria as part of their own custody, but the only way for them is to get the help of the creatures similar to what they have become, some of which in a group called the Freedom Fighters, being led by the legendary hedgehog, Sonic the Hedgehog.
---
Nyx was created by Pen Stroke. Joshua and Guard Armor were created by jkreader.
---
Members of the Freedom Fighters:
Sonic the Hedgehog
Miles "Tails" Prower
Amy Rose
Cream the Rabbit & Cheese
Sally Acorn
Antoine D'Coolette
Bunnie "Rabbot" D'Coolette
Rotor the Walrus
Ben "Mutt" Muttski
Maria Robotnik (the Hedgehog)
NICOLE the Holo-Lynx
M.C. the Fox [My own OC]
Chapters (18)