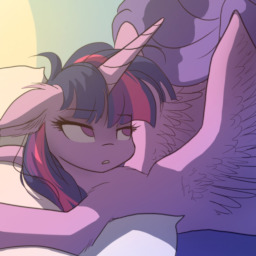 Rainstorms bring out the affectionate side in people. Apparently, ponies are no different.
Twilight asks you to cuddle her on a rainy day, and lucky for her, you are willing to provide just that.
(If anyone happens to know the artist of the cover art, please let me know so I can credit them properly. Thank you!)
(EDIT: Cover art is by Katputze!)
(EDIT 2: Featured on 6/14/21, I'm so honored!

)
Entry for CategoricalGrant's Cuddlefic Contest!
Chapters (1)