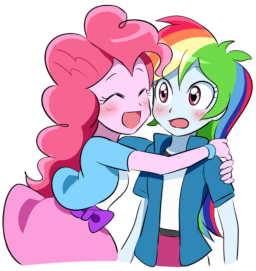 Rainbow Dash is one tough teenager. Althletic, bold, daring, and loyal. She prides herself in being able to handle anything. Then she starts getting little love notes in her locker, her backpack, her shirt pocket, her books. All signed with a ton of x's and o's and little pink hearts, but no name. She starts falling in love with the notes and by intension their sender, and wants to locate them...gradually suspecting she knows who.
Pinkie Pie is one of Rainbow's best friends. She loves everything about the althlete, from her magenta eyes to the brightly colored hair that matches her name. Scared for the first time in her life, Pinkie can't bring herself to admit it to her face, so she takes to leaving notes.
She knows Rainbow wants to find the sender, but what will she do about it when she does? Will she be angry, or maybe, just maybe, return her feelings?
Chapters (1)