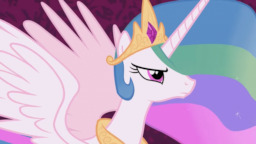 The relationship between Celestia and Hydia, the Queen of the Lamias, goes back quite a ways: Hydia was the first of Equestria's enemies that Celestia consigned to Tartarus instead of killing, after all.
But as the centuries roll on, their relationship changes somewhat.
This was going to be my entry in the 193rd Writeoff competition, "How the Mighty Have Fallen," but I didn't get it finished before the deadline. Then along came the My Little Pony Renaissance Contest with its theme of "Change," and, well, here we are!
Chapters (1)