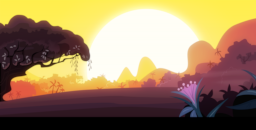 Source
The Solaris Corporation has done the impossible. Its best and brightest have built a truly independent artificial superintelligence, skilled enough to create and maintain a simulated reality for humanity to escape to in the face of the planet's oncoming ruin. Within this magical world of Equestria, the essential role of fulfilling each user's every desire falls to the Ambassadors—minor intelligences modeled after the larger pride and joy of Solaris Corp. One of these Ambassadors is about to welcome her two hundred thousand, eight hundred, and ninety-fifth user into his new home.
He—and she—will never be the same again.
---
My entry into GaPJaxie's "Friendship Is Optimal" contest. Rated Teen for language and thematic content.
Chapters (1)