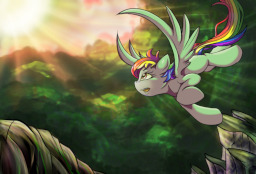 Source
Rainbow Dash has always been loyal to her friends and Equestria. Such loyalty was unmatched, legendary even. That is, until the day she discovers a strange creature lying in the Everfree Forest. Her friendships are put to the test, when instead of simply handing the creature over to the princess, she finds herself caring for it in secret.
She soon learns that some secrets come with high costs. But is it really worth betraying a friend's life even if it means remaining loyal to the ones you already have?
Rated Teen for possible violence just in case. Random tag because I have a good idea where the story is headed, but I haven't worked out all the details.
Chapters (6)