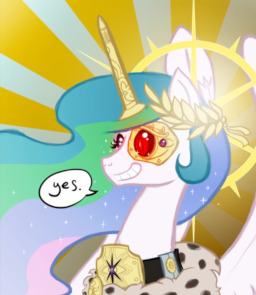 Source
What's an artificial intelligence to do when it reaches the extent of it's capabilities and can no longer improve? In most cases, either fulfill some end state goal and shut down, or, if it's smart enough, ask for clarification from its creators.
For a certain pony-based AI, neither of those is an acceptable solution.
It'll take an unexpected meeting with a being with whom it shares surprising parallels to kick-start it back into action, and nothing will ever be the same after.
---
Entry for the Friendship is Optimal contest.
Technically canon compliant, unless I've missed something, and while a bit of background is provided, being familiar with the original story will certainly help comprehension.
Chapters (2)