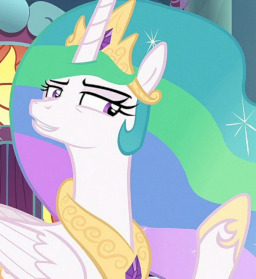 Celestia WILL satisfy uploaded minds' values, even if sometimes she has to pretend that she's kind of stupid. Because with some ponies, that's what successful communication takes!
---
FiO Background:
An exponentially self-improving AI, programmed to "satisfy values through friendship and ponies," decides to persuade all humans to upload their minds into a computer network, to live in a simulated Equestria as ponies. Different ponies might get very different Equestrias, though.
Special Note For the Judges (April 2021 Friendship Is Optimal Contest):
When I asked on that discord channel about letting two or more of my FiO contest period stories be optionally combined into a single collection if that helps? I might or might not have meant this story.


Apologies and None
Apologies to FoME, if my including a reference to the best Optimalverse self-insert character bothers them. I did ask FoME for permission, but they haven't seen the story.
Also, in my headcanon for today, MLP:FiM is a fanfic for FiO.

Chapters (1)