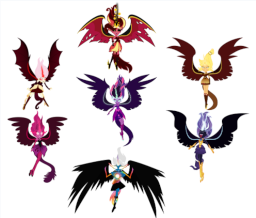 Yeah Yeah Yeah, you already heard this. I found a fic that wasn't finished and decided to continue it. Some of you may be angry at me, some of you may be pissed at me. But in all honesty, do I really care what some people on the internet say if they cap lock an angry message?
NO!
So, yeah. This is a continuation of The Empresses by CrossRedstone. As per my morals, the original chapters will not be posted here, nor will I remake them here. Do you want to figure out what's going on? Read the original fic first (I linked it above)
---
The one who made the pictures.
AHEM
Around four years ago a couple of mugs tried to rob Sunset Shimmer, severely injuring her in the process. In the hospital, she stayed in a coma, until four years later she wakes. However the world has changed drastically in those four years, namely magic is now her thing and her friends rule the world.
(Depending on how wacked I am in the head, I may amend this to a M-rated fic and add some death and gore and torture scenes in this. But, until you see that big red M, this will be a teen fic)
Chapters (4)