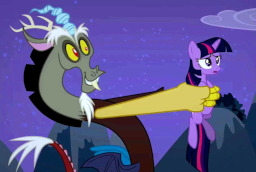 This story is a sequel to Meet The Sparkles
---
Twilight and her Advanced Projects team face Discord. And he may have finally met his match. Yet the Lord of Chaos has an ace to play: he knows Twilight's new friends better than they realize. And also how to get rid of them... by showing her it's for the best, really...
For more of this series, see: Who Needs Enemies -- Part II
And also check out the entire series, beginning with Not Exactly Friends.
Chapters (4)