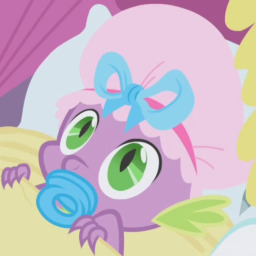 Source
(Story idea requested by Yaakov Lubin who also serves as proofreader. Takes place in an alternative universe after Season 5.)
One morning, Spike wakes up to find himself in a strange and unfamiliar place. To his surprise he discovers that he's an actual baby dragon with an emphasis on the "baby" aspect. And Twilight is his caretaker.
Curious as to why no one remembers him never being this before, Spike tries to figure out how he ended in what he concludes to be a parallel universe. And more importantly, how he'll find a way back to his own universe.
In the meantime, Spike will have to get used to having a mommy. And there will be much he'll come to learn about this parallel universe and its Spike's whereabouts.
Chapters (4)