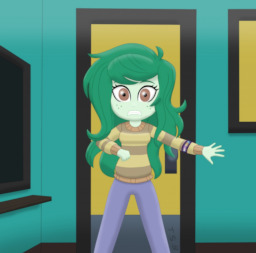 Despite being forgiven by the Mane 7 for stealing their and their school's memories and even befriended her, Wallflower Blush's tendency to go unnoticed remained.
Hoping to end her new friend's unusual "skill", Twilight Sparkle used her magic and intelligence to create a special magical bracelet, which she believed would raise Wallflower's presence.
The good news is that Twilight's bracelet worked. Canterlot High School's students finally stopped overlooking Wallflower like she was invisible.
As for the bad news? Let's just say that being invisible would have been preferable for the introvert.
Last but far from least, special thanks to TheBrokenBrony for prereading chapter 1, and to The Sleepless Behlolder for prereading both chapters of the story and also providing the story's cover art!
Chapters (2)