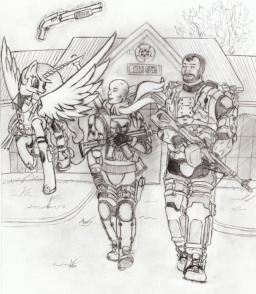 Source
---
This story is a predecessor to Operation Homecoming
---
We are S.T.A.L.K.E.R.s: Scavengers Trespassers Adventurers Loners Killers Explorers Robbers. The Chernobyl Exclusion Zone, the most dangerous place on Earth, is our home. Radiation, killer mutants and deadly anomalies are just another day at the office -just another day in the Zone, as we say. We get by, day after day, by scavenging gear, trespassing and exploring in forbidden areas, seeking for new adventures, all on our own; we kill for money, loot or survival and sometimes rob each other. Well, not everyone does the robbing part, that would be the Bandits' job.
I named myself Strider. I am a free stalker and I do not even know what I am doing here, not that I care anyway.
My name is Vano. I'm a free stalker and one of Strider's rare friends. It's a peculiar predicament, trust me.
My name is Celestia. I'm a free stalker and just want to get back home. Well, I wanted. Maybe I still do.
This is our story.
---
First time writing a story ever. Constructive criticism and comments are appreciated and encouraged, just don't kill me in the process. Romance is a sub-plot thrown in there for exercise and because it's popular, apparently. I made the cover art. I was bored and felt like drawing something.
Chapters (19)