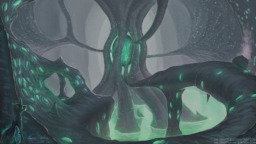 Source
For info on Hiatus read this
---------
Long ago in Far-away Lands
A Queen was Born, her ambitions grand.
Her Race was broken.
Their demise unspoken.
She saw this state.
And she began to contemplate.
She gathered her forces, her numbers small.
Her enemies fell, they were appalled.
Her faces were many.
Her voices were few.
She was the Empress of the Changelings
And their numbers needed no concealings.
Now she lies dormant under the sand.
Her Body Broken, her Empire nothing but a wasteland.
Now she waits day after day.
Waiting for her time to rule again someday.
---
Written in Collaboration with Darthball Give this Mfer some love

Chapters (1)